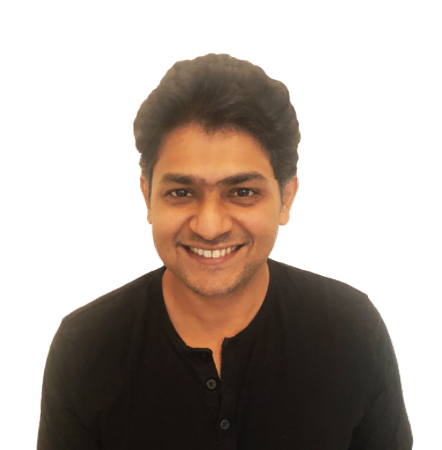 Manish Gaadhe
Founder & Ringmaster
Sharan Saigal
Hotshot advertising ninja
Manish Gaadhe
Founder & Ringmaster
For more than 12 years, Manish has been leading multidisciplinary teams in the area of sales & marketing, branding and business strategy. He is known for his broad-based leadership skills, and his ability to think outside the box.
Manish has worked with companies like Tata Motors Limited (TML), Ceat Tyres & Renault India.
After his MBA from SIBM, Pune Manish joined Tata Motors in 2008 as an area sales manager, before moving into a marketing role. At TML, he was successful at enabling business growth through his extensive work on understanding the consumer, launching new products and building effective marketing campaigns.
After a successful stint with Tata Motors, Manish Joined Ceat Tyres as Category head, His involvement was pivotal in re-branding the product portfolio, while keeping the profitability in check.
In 2014, Manish joined Renault India, and launched the award winning MPV of the year (2016), Renault Lodgy. He crafted the marketing strategy for the new product launch.
Manish decided to celebrate a decade of working in mainstream "Sales and Brand Marketing" by chucking it all and reinventing himself by going back to his first love - the music and events space (and adopting a Shihtzu named Obi, the Jedi master).
Manish has been consulting with various brands and has worked in music management & youth marketing through his associations with Nikhil Chinapa & Submerge, which is India's leading music & artist management company.
Sharan Saigal
Hotshot advertising ninja
Sharan started his advertising career in 2007 as a Junior Copywriter with Rediffusion Y&R, which was amongst the top 5 ad agencies in India at the time.
Next he moved to Lowe Lintas in 2011 and signed off as Asst. Creative Director.
Sharan has over 12 years of Brand Building and Advertising experience and has helped shape brands such as Axe Deodorant, Taj Group of Hotels, Tresemme Shampoo, Fair & Lovely, Hindustan Times, Brown & Polson, Rexona and many others from the Hindustan Unilever house.
More recently Sharan was heading the creative duties at a music centric start up called Nusik, where he closely worked with the millennial segment and focused on innovations for Social Media and Experiential advertising.